Involvement
There are thousands of opportunities to get involved at The Ohio State University!
From over 1,400 Student Organizations to over 80 immersion service trips available through Buck-I-SERV, students at The Ohio State University are involved, building community, giving back to society, and having fun. Students deliver over 10,000 hours of service through programs like Pay It Forward and the Non-Profit Immersion Program. The Ohio Union Activities Board offers over 300 events throughout the year and our Discount Ticket program, D-Tix, offers discounted tickets for sporting events, concerts, restaurants, movie theaters, and more – only for students!
Take a look at some of Ohio State's most popular involvement opportunities compiled in this Get Involved Guide 2019-2020.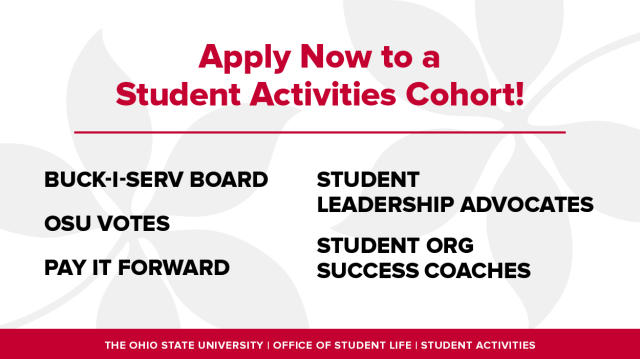 Within these opportunities there are also many leadership opportunities represented through Student Activities Leadership Cohorts. Our cohorts consist of students and offer unique opportunities to lead other students, plan large-scale events, and gain valuable leadership skills. Check out the listing of cohort opportunities below.
Buck-I-SERV Board
The Buck-I-SERV Board is composed of 15-20 undergraduate students who dedicate time to coordinate, plan, facilitatie and execute all Buck-I-SERV Alternative Break trips and trainings. The Buck-I-SERV Board is composed of students who are passionate about service, travel, leadership, social justice, and event planning. The Buck-I-SERV Board contributes to the planning of over 80 Buck-I-SERV trips each year to different cities across the nation and the world working on a range of social issues. Board members meet weekly, on Tuesday evenings, throughout the entire academic year for training and planning. Specific responsibilities of the Buck-I-SERV Board include: setting up trip logistics, communicating with community organizations, connective to resources in Buck-I-SERV trip locations, mentoring trip leaders, and creating education training and development for participants.
Applications for the 2020-2021 are now Open! . Visit buckiserv.osu.edu for more information and to apply.
Questions can be directed to Connor Jones at jones.6493@osu.edu
Ohio Union Activities Board (OUAB)
The Ohio Union Activities Board is comprised of 8 committees focusing on programming for The Ohio State University student-body throughout the academic year. All events are FREE for current OSU students at the Columbus campus through the Student Activity Fee. The mission of the Ohio Union Activities Board as the student programming organization at The Ohio State University is to provide diverse programs and events that are educational, entertaining, and thought-provoking for the students of the Columbus campus. OUAB strives to create a fun, accessible, and challenging environment for its members that empower each member to change and shape the lives of fellow students while strengthening their own leadership skills and fostering personal growth.
Applications for OUAB are currently closed and will open next Fall. Visit https://ouab.osu.edu/ for more information.
Questions can be directed to ouab@osu.edu
OSU Votes
The Office of Student Life's OSU Votes is a student-led movement to register, educate and encourage other students to vote. This nonpartisan group fosters civic engagement at The Ohio State University. OSU Votes is committed to providing students with the necessary information and materials needed to vote in every local, state, and federal election.
Applications for the 2020-2021 school year are now open! To apply, please visit go.osu.edu/OSUVotesApp2020. Visit go.osu.edu/osuvotes for more information.
Questions can be directed to Alyssa Johnson at johnson.4452@osu.edu or Anna Wagner at wagner.1476@osu.edu
Pay It Forward
Pay It Forward is a cohort made up of 20 student chairs who plan, coordinate, and lead service experiences throughout the city of Columbus for Ohio State students. Pay It Forward works directly with over 100 nonprofit organizations and 3,000 volunteers each year. If you're interested in event planning, community service, and social justice joining the Pay It Forward cohort could be a great opportunity for you!
To apply for the 2020-2021 Pay It Forward cohort visit go.osu.edu/pif2020. Visit payitforward.osu.edu for more information.
Questions can be directed to Alyssa Ciango at ciango.1@osu.edu.
Student Leadership Advocates
Student Leadership Advocates (SLA) is a peer leadership cohort supported by the Office of Student Life Student Activities. The role of SLA is to support the Ohio State community in leadership development, primarily through providing facilitation for leadership development workshops and retreats. SLA works with student leaders from across the university to support them as they develop as students and leaders.
SLAs take part in multiple years of experiential leadership education and training, while also providing Ohio State student organizations with facilitation services. As an SLA you will learn more about how you can become a stronger leader, while also helping others become stronger leaders. After becoming a certified SLA facilitator, you will be qualified to participate in leading any of the several workshops we offer that impact over 3,000 students a year.
Are you interested in joining the Student Leadership Advocates cohort? Visit go.osu.edu/SLA2020 to apply for the 2020-2021 SLA cohort. Visit sla.osu.edu for more information.
Questions can be directed to Andrea Davis at davis.5688@osu.edu.
Student Organization Success Coaches
Student Org Success Coaches is the newest cohort of student leaders providing direct support to our student organization community. Coaches are trained to consult with student orgs on a wide variety of topics including member development, operational efficiency, programming, leadership transitions, community-building and more. Coaches also support programming for student organizations including events in the KBK Center, roundtables, president training, and the Student Involvement Fairs
Applications for the 2020-2021 school year will open in December. Visit go.osu.edu/sosco for more information.
Questions can be directed to Brooke Olson at olson.276@osu.edu