Big Ten Bus Trip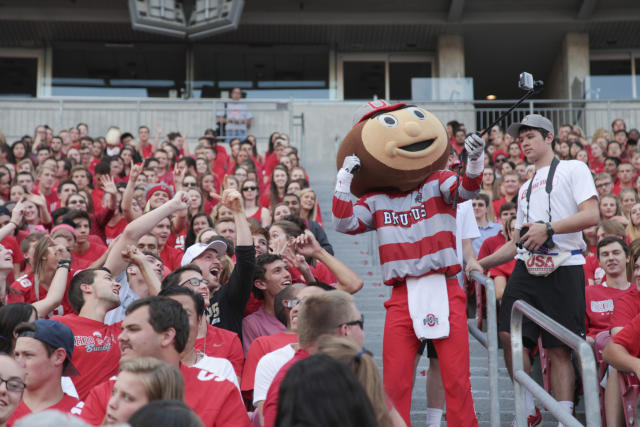 A Ride and a Ticket for $70! Travel to the Big Ten Championship with Student Life
Don't want to drive to the Big Ten Championship game? Study on the way to and from the game by traveling with the Office of Student Life!
Ohio State students have an opportunity to travel with the Office of Student Life and cheer on the Buckeyes at the Big Ten Championship Game, should the Buckeyes qualify for the game. Let Student Life take care of driving, parking and paying for gas while you enjoy a trip to and from the game.
The Big Ten Championship Game will be held on Saturday, December 1, 2018 at Lucas Oil Stadium in Indianapolis, Indiana. Student Life buses will depart from Columbus starting at 1 pm on December 1. Line up for the B1G Trip will begin at 12 p.m. at the Ohio Union, Performance Hall. Gates open at 6:17 p.m. and kickoff is at 8:00 p.m. Buses will depart from Indianapolis directly following the game.
There will be three different release times for ticket vouchers, all of which will occur at Student Life's Ohio Union Information Desk (1st floor). The first opportunity will be Monday, November 26 at 9 a.m. while supplies last. Quantities of ticket vouchers will be held for two additional releases – Monday, November 26 at 7 p.m. and Tuesday, November 27 at 9 a.m. Line up for tickets will begin two hours before each release time.
Ticket vouchers, which include the game ticket and bus transportation, will cost $70 and will be available one per student. Students must present a valid BuckID. It is an expectation that students take university transportation to and from the game.
All sales are final and tickets are non-transferrable or refundable. Students who purchase a ticket voucher must present their voucher on the day of the game and will receive their game ticket upon entry on the bus. Students who purchase a voucher must ride on the bus and return.
The Student Life Big Ten Championship Bus trip will be a substance-free event. Student Life tickets offered through D-Tix will include a ticket to the game and bus ride, however students must pay for their own food and drinks at the game.
With a student budget in mind, Ohio State's Discount Ticket Program (D-Tix) offers tickets to Columbus-area shows, museums, concerts, sporting events and more at an exclusive rate. A Student Life program, D-Tix is funded by the student activity fee and available to current Ohio State undergraduate, graduate and professional students on the Columbus Campus. Students can get their D-Tix tickets at the Information Center in Student Life's Ohio Union.
Please submit questions to Kimani Robinson, sl-mcec@osu.edu.