OSU Votes
Quick Links:
The Office of Student Life's OSU Votes is a student-led movement to register, educate and encourage other students to vote. This nonpartisan group fosters civic engagement at The Ohio State University.
OSU Votes is committed to providing students with the necessary information and materials needed to vote in every local, state, and federal election.
Have questions about OSU Votes? Contact us at osuvotes@osu.edu
Subscribe to OSU Votes Newsletter
---
Join Us for a Civic Engagement Program This Spring
In order to further our mission of promoting civic engagement, OSU Votes is hosting two great programs this Spring that you can join!
O-H-I-Organizing: A Student Perspective on Community Organizing
When: March 9, 7:30-8:30pm
Where: Register at go.osu.edu/OSUVCommunityOrganizing
Join a panel of student community leaders to learn more about what community organizing is, how to balance it as a student, and where to get started. This event is also registered as a STEP PDC and an FYSS session so feel free to register through those sessions to get that credit if you need it.
Civic Engagement: Choose Your Own Adventure
When: March 23, 7:30-8:30pm
Where: Register at go.osu.edu/CYOAdventure
Are you looking to be more civically engaged but not sure where to start or what is accessible to you given the time and energy you have to give? Join OSU Votes in discussing a variety of levels of civic engagement so you can choose your own adventure as you engage with your community. This event is also registered as an FYSS session so feel free to register through those sessions to get that credit if you need it.
If you require an accommodation such as live captioning or interpretation to participate in an event, please contact Anna Wagner at wagner.1476@osu.edu or 614-688-3515. Requests made by one week before the selected session will generally allow us to provide seamless access, but the university will make every effort to meet requests made after this date.
---
Request a Workshop
Do you want to learn more about upcoming elections? OSU Votes offers virtual workshops which we provide to any member of the Ohio State community at no cost. By attending a workshop, participants can learn:
How to register to vote in Ohio
What identification to bring on Election Day
How to vote early or vote absentee
Where to vote on Election Day
Strategies to practice civic engagement in addition to voting
The role of young people in politics
More about the primary process
Workshops are perfect for a class, student organization, residence hall, Greek organization, athletic team, etc. and can range in time from 10 minutes to one hour.
Request an OSU Votes workshop today!
OSU Votes has also digitzed most of their workshops into an asynchronous format hosted on our OSU Votes Carmen page. If you would like acess to the Carmen page for you, a group, a class, etc, please email osuvotes@osu.edu.
Please submit the request form at least two weeks in advance of your requested workshop or tabling date. Requests will be considered for virtual programs and consultations. We will accept in-person workshop requests on a case-by-case basis this Fall, in alignment with COVID-19 protocol.
---
Find Your Polling Location
The Ohio Union continues to serve as an official polling location. It is the polling location of many of the on-campus students, particularly those who live on South campus. There are many polling locations that both on-campus and off-campus students vote at, and students who are registered to vote in Ohio can confirm their polling location at: https://www.ohiosos.gov/elections/voters/toolkit/polling-location/. All of these locations will be following an increased cleaning protocol in alignment with Secretary of State LaRose's guidance to make sure people can vote safely during the COVID-19 pandemic.
---
Register to Vote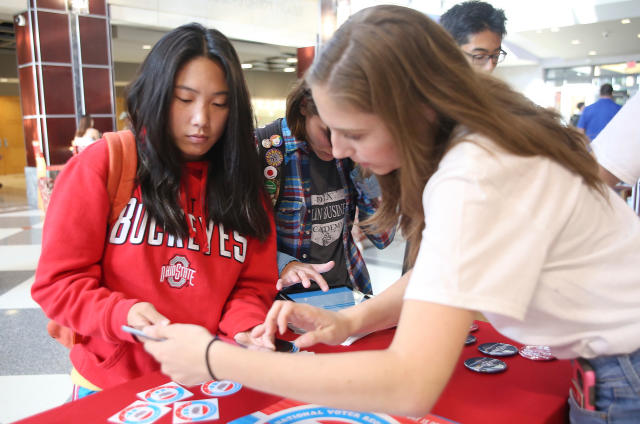 Every student at The Ohio State University who is a citizen of the United States of America has the right to register to vote using their campus address in the county their OSU campus is located in. There are many ways to verify your campus address, update your voter registration, and find your polling location. You can now register to vote online!
OSU Votes Student Ambassadors also host tabling event to help students register to vote. It only takes a few minutes to register and our trained Ambassadors will walk you through the voter registration form. No appointment necessary. All you need to do is show up!
Big Ten Voting Challenge
Ohio State is proud to participate in the Big Ten Voting Challenge. Learn more about the challenge and how you can get involved!
---
Nationally Recognized
The Ohio State University, has been included in Washington Monthly's 2020 Best Colleges for Student Voting Honor Roll.
As a result of the work from student volunteers in OSU Votes, Ohio State was named a "Voter Friendly Campus" for 2018-2019. This distinction is managed by the non-partisan Campus Votes Project and NASPA - Student Affairs Educators in Higher Education. Ohio State becomes one of only 83 schools in the nation to earn this distinction.
OSU Votes was also awarded a "Bronze Seal" for work promoting student voter turnout in the November 2016 election. The Bronze Seal was awarded by the ALL IN Campus Democracy Challenge to institutions with student voter turnout between 50% - 59%. View the full list of campus award recipients.
Join OSU Votes, and be a part of our award winning team!
---
Voter Registration Resources
Learn more about important dates, frequently asked questions, and valid voter identification.