OSU Votes
I Need to Update My Voting Address
About
The Office of Student Life's OSU Votes is a student-led movement to register, educate and encourage other students to vote. This nonpartisan group fosters civic engagement at The Ohio State University.
OSU Votes is committed to providing students with the necessary information and materials needed to vote in every local, state, and federal election.
Have questions about OSU Votes? Contact Alyssa Johnson at johnson.4452@osu.edu or Anna Wagner at wagner.1476@osu.edu
Subscribe to OSU Votes Newsletter
---
Request a Workshop
Do you want to learn more about upcoming elections? OSU Votes offers several workshops - which we provide to any member of the Ohio State community at no cost. By attending a workshop, participants will learn:
How to register to vote in Ohio
What identification to bring on Election Day
How to vote early or vote absentee
Where to vote on Election Day
Strategies to practice civic engagement in addition to voting
Workshops are perfect for a class, student organization, residence hall, Greek organization, athletic team, etc. and can range in time from 10 minutes to one hour.
Request an OSU Votes workshop today!
Please submit the request form at least two weeks in advance of your requested workshop or tabling date. Requests will be considered for virtual programs and consultations this Summer. We will accept in-person workshop requests on a case-by-case basis this Fall, in alignment with COVID-19 protocol.
---
Register to Vote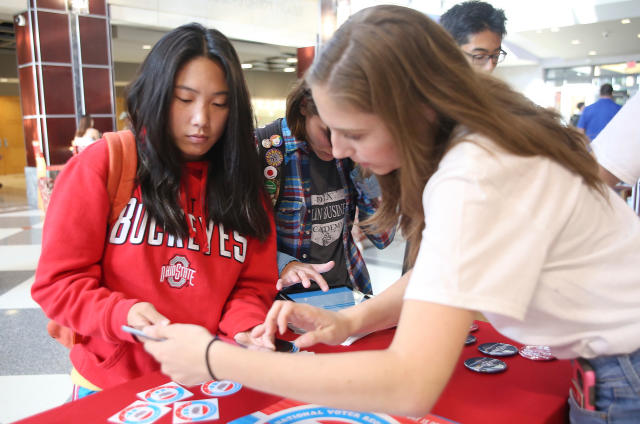 Every student at The Ohio State University who is a citizen of the United States of America has the right to register to vote in Franklin County using their campus address. There are many ways to verify your campus address, update your voter registration, and find your polling location. You can now register to vote online!
OSU Votes Student Ambassadors also host tabling event to help students register to vote. It only takes a few minutes to register and our trained Ambassadors will walk you through the voter registration form. No appointment necessary. All you need to do is show up!
Big Ten Voting Challenge
Ohio State is proud to participate in the Big Ten Voting Challenge. Learn more about the challenge and how you can get involved!
---
Apply to be an OSU Votes Ambassador
As an OSU Votes Ambassador, you can join a movement to increase the number of college students making their voices heard in local, state, and national elections. Being an OSU Votes Ambassador is a great opportunity for Ohio State undergraduates to directly impact the level of civic engagement on campus. OSU Votes is a nonpartisan organization led by students as a part of the Office of Student Life and works to register, educate and encourage other students to vote. Students of all majors and class ranks are encouraged to apply.
OSU Votes Student Ambassadors are responsible for:
Registering Ohio State students to vote at tabling and other campus events

Co-facilitating workshops about civic engagement, voter registration, and election information for student organizations and groups on campus

Volunteering at OSU Votes sponsored National Voter Registration Day and Election Day outreach events

Leading the Big Ten Voting Challenge at OSU, a competition aimed to mobilize registration and turnout efforts at all 14 Big Ten universities

Participating in tabling and/or outreach events for 2-6 hours per week, contingent on approaching election and registration deadlines
---
Nationally Recognized
As a result of the work from student volunteers in OSU Votes, Ohio State was named a "Voter Friendly Campus" for 2018-2019. This distinction is managed by the non-partisan Campus Votes Project and NASPA - Student Affairs Educators in Higher Education. Ohio State becomes one of only 83 schools in the nation to earn this distinction.
OSU Votes was also awarded a "Bronze Seal" for work promoting student voter turnout in the November 2016 election. The Bronze Seal was awarded by the ALL IN Campus Democracy Challenge to institutions with student voter turnout between 50% - 59%. View the full list of campus award recipients.
Join OSU Votes, and be a part of our award winning team!
---
Voter Registration Resources
Learn more about important dates, frequently asked questions, and valid voter identification.