OSU Votes
Register to Vote: https://osu.turbovote.org/
The Office of Student Life's OSU Votes is a student-led movement to register, educate and encourage other students to vote.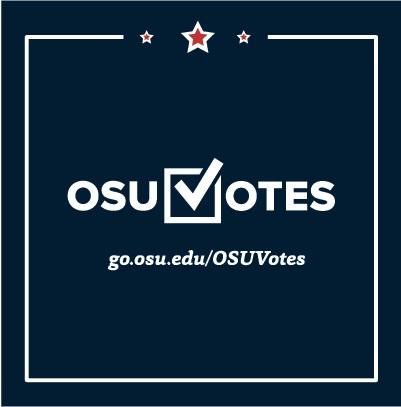 This nonpartisan group fosters civic engagement at The Ohio State University.
OSU Votes is committed to providing students with the necessary information and materials needed to vote in every local and national election.
We are looking for students to join OSU Votes in August 2017! If you value civic engagement, voting, and the democratic process, this organization may be a great fit for you! Look for us at the Involvement Fair on Sunday August 20, 2017. OSU Votes will begin meeting regularly again in Fall Semester 2017.
For more information, please email Matt Van Jura at vanjura.1@osu.edu.
---
Register to Vote
Every student at The Ohio State University who is a citizen of the United State of America has the right to register to vote in Franklin County using their campus address. There are many ways to verify your campus address, update your voter registration, and find your polling location. You can now register to vote online!
In 2017, Election Dates are Scheduled for the Following Dates (Registration Deadlines Noted in Parenthesis)
OSU Votes Student Ambassadors also host tabling event to help students register to vote. It only takes a few minutes to register and our trained Student Ambassadors will walk you through the voter registration form. No appointment necessary. All you need to do is show up!
Currently there are no tabling events scheduled.
---
Receive Election Day Reminders & Register to Vote through TurboVote
TurboVote simplifies the voting process so that you, the voters, can focus on the candidates and issues presented on the ballots. However, you must take the first step and register online now. Voting not only allows each individual to make their voice heard, but also for our community to contribute towards making decisions that affect us all.
When you sign up at the link below, you have the ability to access everything needed to register to vote. You can stay registered if you move, vote absentee, and receive reminders regarding upcoming elections.
Please sign up now: osu.turbovote.org
---
Nationally Recognized
As a result of the work from student volunteers in OSU Votes, Ohio State was named a "Voter Friendly Campus" for 2017-2018. This distinction is managed by the non-partisan Campus Votes Project and NASPA - Student Affairs Educators in Higher Education. Ohio State becomes one of only 83 schools in the nation to earn this distinction.
Join OSU Votes, and be a part of our award winning team!
---
Voter Registration Workshops
Does your student organization or group want to register to vote and learn more about upcoming Elections? If so, you can request for an OSU Votes Student Ambassador to come to your organization's meeting and facilitate a workshop.
---
Voter Registration Resources
Check out some great voter registration resources including important dates and deadlines.
---
Apply to be an OSU Votes Student Ambassador
Learn more and apply here.