Student Leadership Advocates
What is SLA?
Student Leadership Advocates (SLA) is a peer leadership cohort supported by the Office of Student Life Student Activities.
The role of SLA is to support the Ohio State community in leadership development, primarily through providing facilitation for leadership development workshops and retreats. SLA works with student leaders from across the university to support them as they develop as students and leaders.
SLAs take part in multiple years of experiential leadership education and training, while also providing Ohio State student organizations with facilitation services. As an SLA you will learn more about how you can become a stronger leader, while also helping others become stronger leaders. After becoming a certified SLA facilitator, you will be qualified to participate in leading any of the several workshops we offer that impact over 3,000 students a year.
We offer workshops for over 20 different leadership development topics and are happy to work with you on the content you need if you do not see it here. Some of our most popular workshop topics include: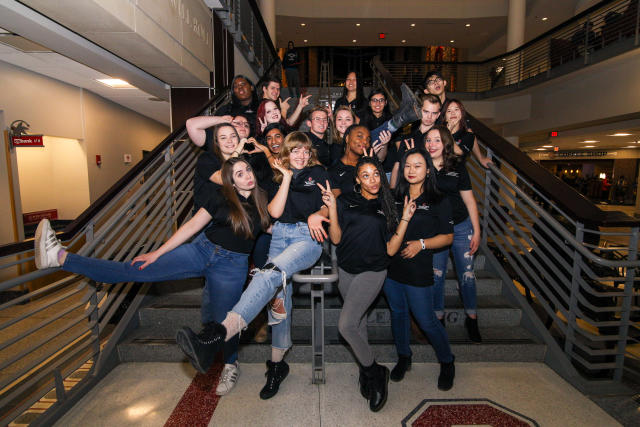 Individual-oriented workshops
Time Management
Personal Branding
Values
True Colors Leadership Assessment
Strengths Finding
Adobe Creative Types
Leadership Practices Inventory (LPI) Assessment
Group-oriented workshops
Love Languages
Retention
Recruitment
Art of Facilitation
Mentoring
Team Building and Trust
Leadership Transitions
Community-oriented workshops
Leadership and Vulnerability
Networking
Public Speaking and Communication
Request Support from Student Activities
Looking for help with a workshop/retreat or other support or resources from Student Activities? The Student Activities Request Form is here for you! Our team of trained coaches, facilitators, and staff members are excited to support you, your organization, department, or group.
Requests will be considered for virtual programs and consultations. Requests for in-person workshops will be considered on a case-by-base basis in alignment with university protocols related to Coronavirus (COVID-19).
Want to Join SLA?
Are you interested in joining the Student Leadership Advocates cohort? The application for the 2021-2022 SLA cohort will open in December 2021 and close in early February. Invitations to interview will be issued in late February and will be scheduled for the first week of March. There is a social welcome meeting at the end of the Spring semester with official cohort membership and participation starting in August 2022. Email Brian Menard, the SLA Advisor at menard.27@osu.edu with any questions or for more information.
Questions?
Contact Brian Menard for more information.