Student Leadership Advocates
Student Leadership Advocates (SLA) is a peer leadership cohort program supported by the Office of Student Life.
SLAs take part in three sequenced levels of experiential leadership education and training, while also providing Ohio State student organizations with facilitation services. As an SLA you will learn more about how you can become a stronger leader, while also helping others become stronger leaders.
SLAs can work with your student group at your next meeting, educational workshop or retreat. These student facilitators are trained in a variety of topics and activities to specifically build leadership and teamwork among individuals and groups. You can request their support on the Student Activities Resource Request Form.
In the past year, SLA facilitated over 100 workshops, impacting over 3,000 students.
Among the topics we present are: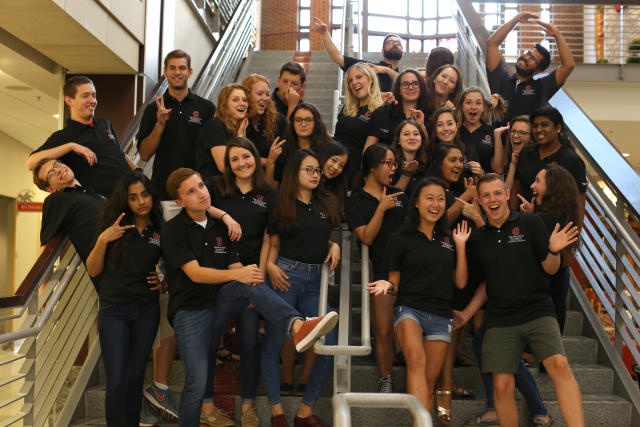 Team Building
Communication and Public Speaking
Leadership Practices Inventory (LPI)
True Colors
Clifton Strengths for Students
Time Management and Stress Relief
Values Clarification
Goal-Setting
Ice Breakers
Recruitment and Retention
Conflict Resolution
Retreat Planning and Facilitation
And Many More!
Want to Join SLA?
Are you interested in joining the Student Leadership Advocates cohort? Applications to join the cohort in 2018-2019 are now closed. But check back in February 2019 to apply for the following school year!
Request a Workshop or Facilitation
Student organizations and groups can request SLA facilitators by using the Workshop and Retreat Network online request form. This form also has a listing of sample workshop/retreat topics. SLA staff will select a facilitator based on the organization's needs.
SLA may need more advanced notice to fill facilitation requests during the summer term due to a limited number of available facilitators.
Where to Find SLAs
Come visit us during our SLA Office Hours in the Keith B. Key Center for Student Leadership and Service. SLA members are usually available between Noon - 8 p.m. Monday-Friday.
Questions?
Contact Emma Kagan for more information.